Do you have the perfect "Cooking Show" kitchen?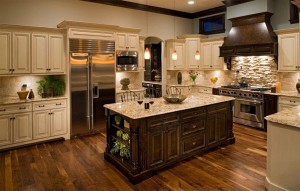 We are currently looking for a location in Southern California to shoot a series of "How to" cooking segments for TV/Internet distribution. Each segment will be approximately 2 minutes in length and will be shot within an 8 hour day. Our production crew will consist of no more than 4 people and will cause minimal damage to your kitchen :).
** In exchange for your contribution, Tom will cook you and your friends (up to eight people) a full course meal.
What are we looking for?
Quite honestly we'll know it when we see it.
First off, it has to be "video production friendly". Because we need room to set up a couple lights and some basic production gear, we'll need an area we can move around in.
Working appliances is always a good thing.
Kitchen layout is always important.
Not sure if you fit the criteria? Send us some photos and we'll come take a look.
[form form-6]