Riehl Food is looking for Real People!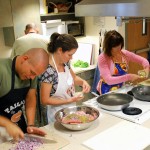 We're currently in production and looking for families, not matter how big or small, to be a part of our show. We're not looking for professional actors or chefs, but for real people who have a true love of cooking. 
Do you have a great story to tell? A special meal that's been in your family for years? If so, Riehl Food wants to hear from you! 
Also, be sure and upload any photos (you, your family, the food) that you think might help us in our decisions.
Currently we're looking for the following:
Traditional Meals

Families who celebrate holidays or events with a traditional meal. The more the merrier!
Old School Rules
Mom was always my favorite cook. If you can prepare a Killer Meatloaf, some Chicken and Dumplings, or something that takes us back to the 60's, we're there.
Extreme Barbecuing
Every day is a good day to do some outdoor grilling. Let us know what you're doing and when.
Kids Who Cook
It's always great watching kids who have a passion for food.
We're always open to great ideas. Send us yours and be a part of the show!