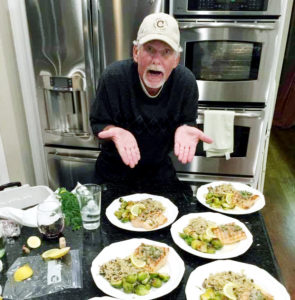 So you want to host a dinner party for a few of your closest friends but there's only one thing stopping you. You can't cook! Well that problem is now solved.
Stand-up comedian and lover of all things food Tom Riehl, will create an evening of food and fun you and your guests will not soon forget.
Dinner will last approximately 3 hours from start to finish. This includes prep time, cooking time and eating time. Doing dishes is not included. Tom and his crew will prepare enough food to feed up to six guests.
Arrival at your home will be at 4:00 PM, however times are flexible so please let us know what works best for you and your guests.
Listed below are some of the more popular selections Tom and his crew have prepared in the past. If you or any of your guests would like to join Tom in the preparation/cooking process, feel free to jump in at any time. The more the merrier. Please also let us know of any dietary issues and/or restrictions.
We ask that you choose one single entree for the entire group. Think of this as a home cooked meal rather than taking the whole family out to Coco's. We will bring all food and cookware. You will need to supply dishes, silverware, beverages…and oh yeah, the guests.
What are you waiting for? Let's get the party started now!
---
Some of our popular selections –
ENTREES:
Chicken Parmesan w/Angel Hair Pasta, Grilled Salmon w/White Wine & Lemon Caper Sauce, Beef Stroganoff w/ Egg Noodles, Chicken Pad Thai, Barbecue Pork Ribs, Stuffed Shrimp w/crabmeat, Lobster Newburg in Puff Pastry, Lemon Garlic Shrimp and Grits
SIDES:
Green Salad, Caesar's Salad, Spring Salad w/vinaigrette, Chinese Cole Slaw, Roasted Brussel Sprouts, Baby Asparagus w/ Balsamic Butter Sauce Orange Glazed Carrots Fresh Green Beans and Mushrooms
Orzo Pilaf with Mushrooms, Mashed Potatoes, Pasta, Pork Fried Rice, Twice Baked Potato, Fresh cut French Fries
---