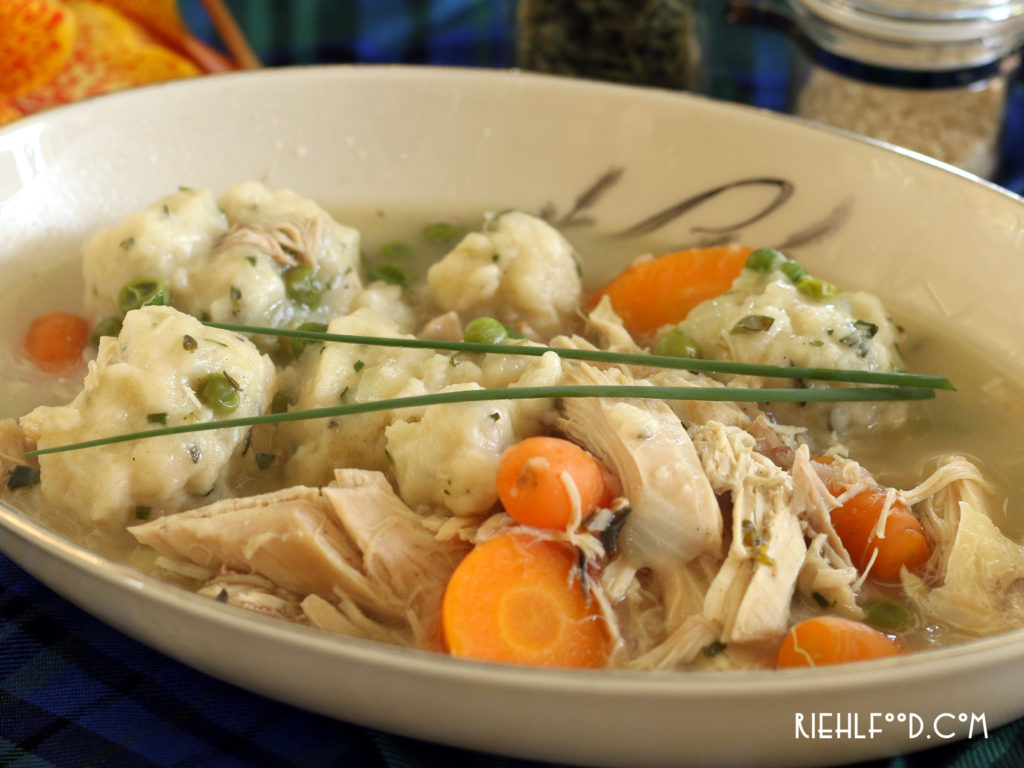 Chicken and Herb Dumplings
2016-10-23 10:23:47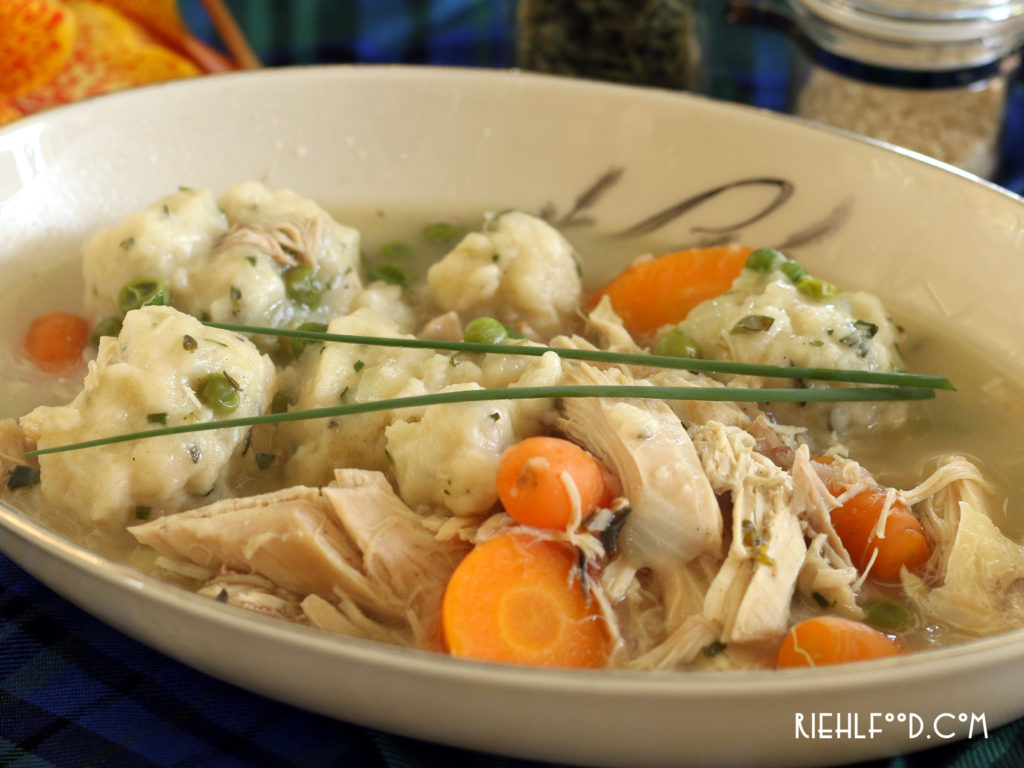 Homemade stock, a secret ingredient, and a twist on the traditional dumpling makes this mouthwatering bowl of Chicken and Parmesan Herb Dumplings irresistible!
For the chicken and the stock
1 4-pound whole chicken, preferably pasture/free-range
2 carrots
2 celery stalks
1 yellow onion, halved
1 head garlic, halved
Parsley
1/2 tablespoon kosher salt
1 teaspoon black peppercorns
For the dumplings
2 1/4 cups Bisquick
2/3 cup buttermilk
2 T fresh sage
2 T fresh parsley
2 T fresh thyme
Salt & pepper
For the chicken and dumplings
1 tablespoon extra virgin olive oil
1/4 pound white mushrooms, diced
2 cloves garlic, peeled and minced
2 medium carrots, peeled and diced
1 shallot, minced
2 tablespoons all-purpose flour
7 cups homemade chicken stock
Chicken, pulled from the bone, about 3 1/2 cups
Herb dumplings
Chicken and Stock
In a large stock pot, place chicken, whole carrots, celery, onion, garlic, parsley, salt, and pepper. Fill the pot with water until it covers the ingredients by 2 inches. Time saving tip: Don't bother with peeling the carrots, onions, and garlic. You're going to strain the stock anyway and all of those peels are going to give the stock added depth of flavor. Just give everything a rinse before placing it in the pot. Over high heat, bring to a boil. Reduce heat to a simmer and simmer for 2 hours.
Remove the chicken to a carving board and once cooled, remove the meat from the bones. With your hands, pull the chicken into bite-sized pieces.
Strain the stock from the remaining ingredients and reserve until needed. Discard the remaining vegetables. This can be done a day in advance and stored covered in the refrigerator, if desired.
Dumplings
In a large bowl, combine Bisquick, buttermilk, herbs,and salt and pepper.
Stir until combined. The dough will be sticky. Set aside until needed.
Chicken and Dumplings
In a dutch oven or large heavy-bottomed pot, heat olive oil over medium-low heat. Add mushrooms, garlic, carrots, and shallot. Saute until softened, about 8 to 10 minutes. Add cognac and cook until all liquid has absorbed, about 5 minutes. Sprinkle with flour, stir, and cook for an additional 2 minutes.
Add chicken stock and chicken and bring to boil. Reduce heat to a rapid simmer over medium- high heat. Using a spoon or a small ice cream scoop with a release handle, spoon the dumpling dough into the stock one spoonful at a time. The dumplings will increase in size as they cook. If you want large dumplings use large spoonfuls, if you want small dumplings stick to a teaspoon size. Allow the dumplings to simmer for 5 minutes until cooked through. Gently stir in cream until incorporated. Serve.
Adapted from Steel House Kitchen
http://riehlfood.com/