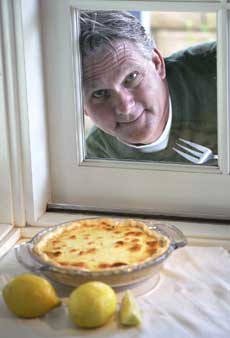 Food and the kitchen have been a part of Tom Riehl's life for as long as he can remember.

Combining equal parts humor and cooking expertise, Tom has discovered a way to make everyone's kitchen experience fun! A self proclaimed non graduate of any legitimate cooking school, Tom believes anyone can be a great cook if they have the desire to learn.
Tom grew up in Easton, PA and spent the first part of his adult life working in east coast dinner houses before making his way to California at the age of nineteen. Soon after that he would work as District Coordinator for a national restaurant franchise for the next fourteen years. "When I first started working in restaurants, cooking was looked down on as sort of a menial profession. Then the Food Network was born and cooking was cool."
In the early nineties, Tom embarked on yet another culinary conquest. Host and producer of Food Rules, an outrageous, off-the-wall cable cooking show which featured great food, a live band, a variety of guests, and lots of fun! The show was such a hit, it caught the eye of Food Network producers and was part of their special presentation "Funniest Food TV." Tom and Food Rules were also featured in the documentary film Access Nation.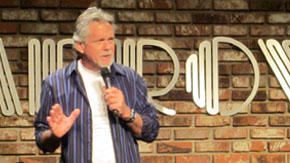 In addition to his love of food and cooking, Tom has been working as a stand-up comedian since the early nineties. When not performing comedy, he also produces shows throughout the southland as well as teach those wanting to get started in stand-up comedy.
He's been a regular guest on a variety of radio and television shows throughout the U.S. and was part of a cookbook entitled "From The Stage To The Stove", featuring recipes and jokes from Tom and other comedians including famous Blue Collar comics Jeff Foxworthy and Bill Engvall.

Tom is an active volunteer in the city of Mission Viejo where he's lived for 25+ years, donating his time and cooking expertise to a variety of events and functions throughout the year.
Breakfast with Gary & Kelly
Unless otherwise noted, all photos below courtesy of Steve Wylie.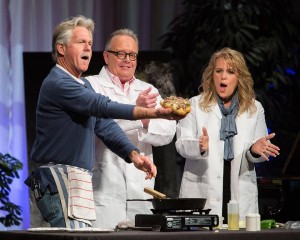 Since 2014, Tom has been making regular appearances on southern California's morning show "Breakfast with Gary and Kelly", a live radio broadcast on 88.5 KSBR in Mission Viejo. Each week, hosts Gary Bergeson and Kelly Bennett offer a mix of contemporary jazz and general silliness, often joined by assorted celebrities and interesting people in the community as well as a cooking segment featuring Tom. The show can also be streamed live by visiting alerttheglobe.com.